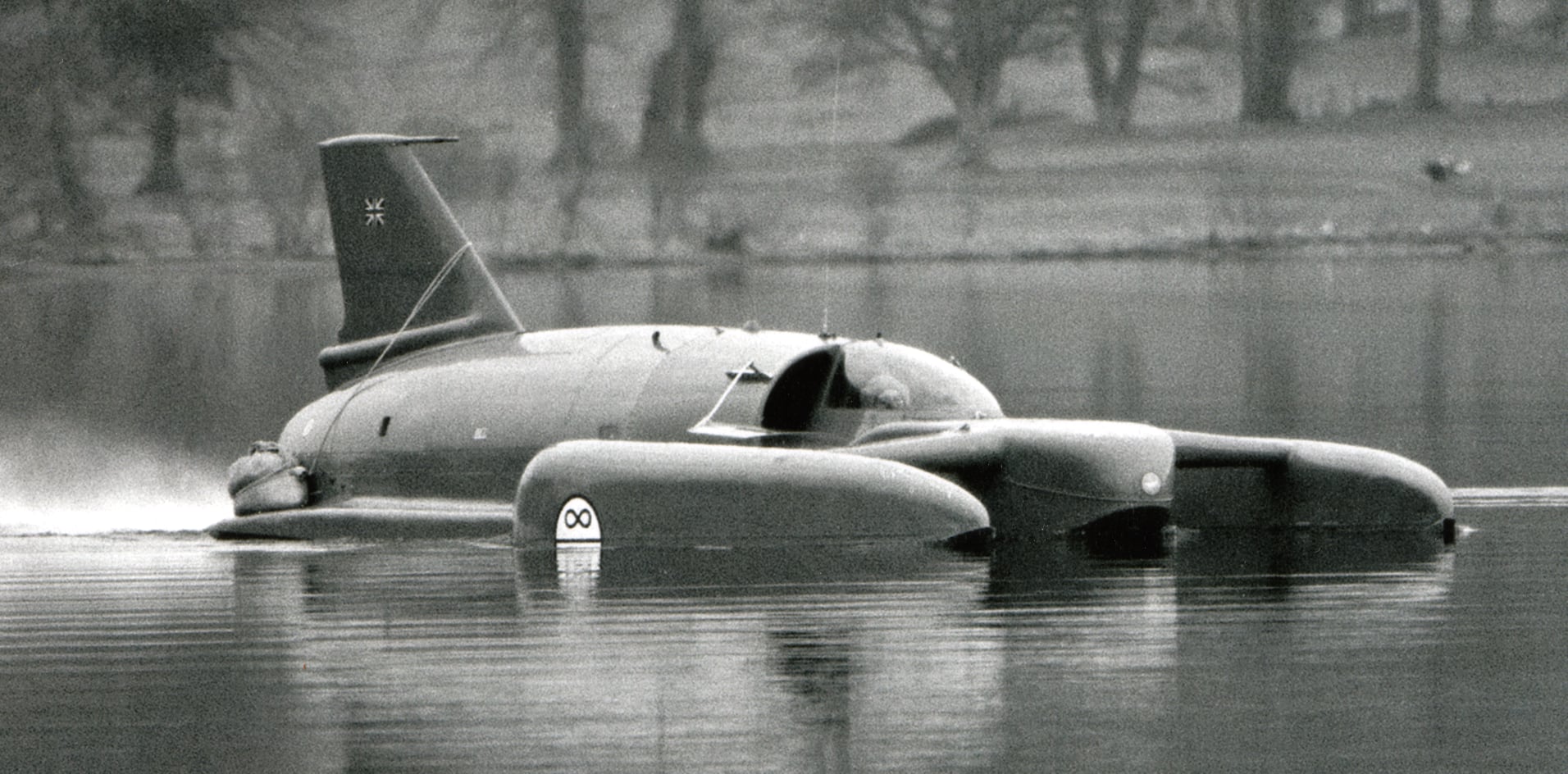 Turbo Jet Engine
Bluebird K7 was a turbo jet-engined hydroplane in which Donald Campbell set seven world water speed records during the 1950s and 1960s. Tragically, Donald Campbell lost his life in K7 on January 4, 1967 whilst making a bid to raise the speed record to over 300 miles per hour on Coniston Water in the English Lake District.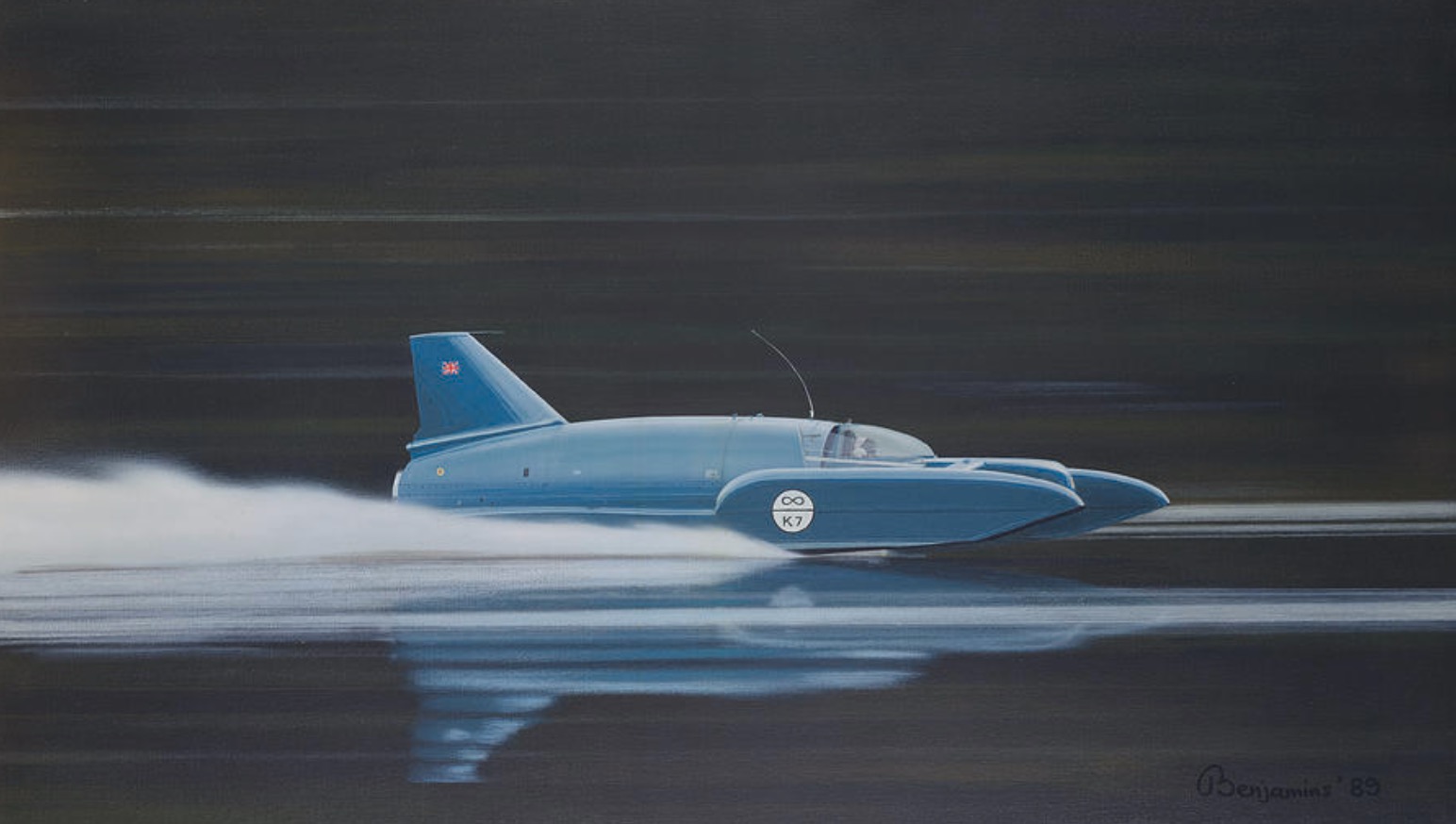 K7 was born from necessity. Donald had been using his father Sir Malcolm Campbell's propellor-driven hydroplane Bluebird K4 for his record breaking attempts, but in 1951 it was destroyed by structural failure, when its gearbox sheared its mountings and punched through the floor of the hull.
Following rival racer John Cobb's death in Crusader in 1952, Donald began development of his own all metal jet-powered Bluebird K7 to challenge the record held by the American hydroplane Slo-Mo-Shun IV.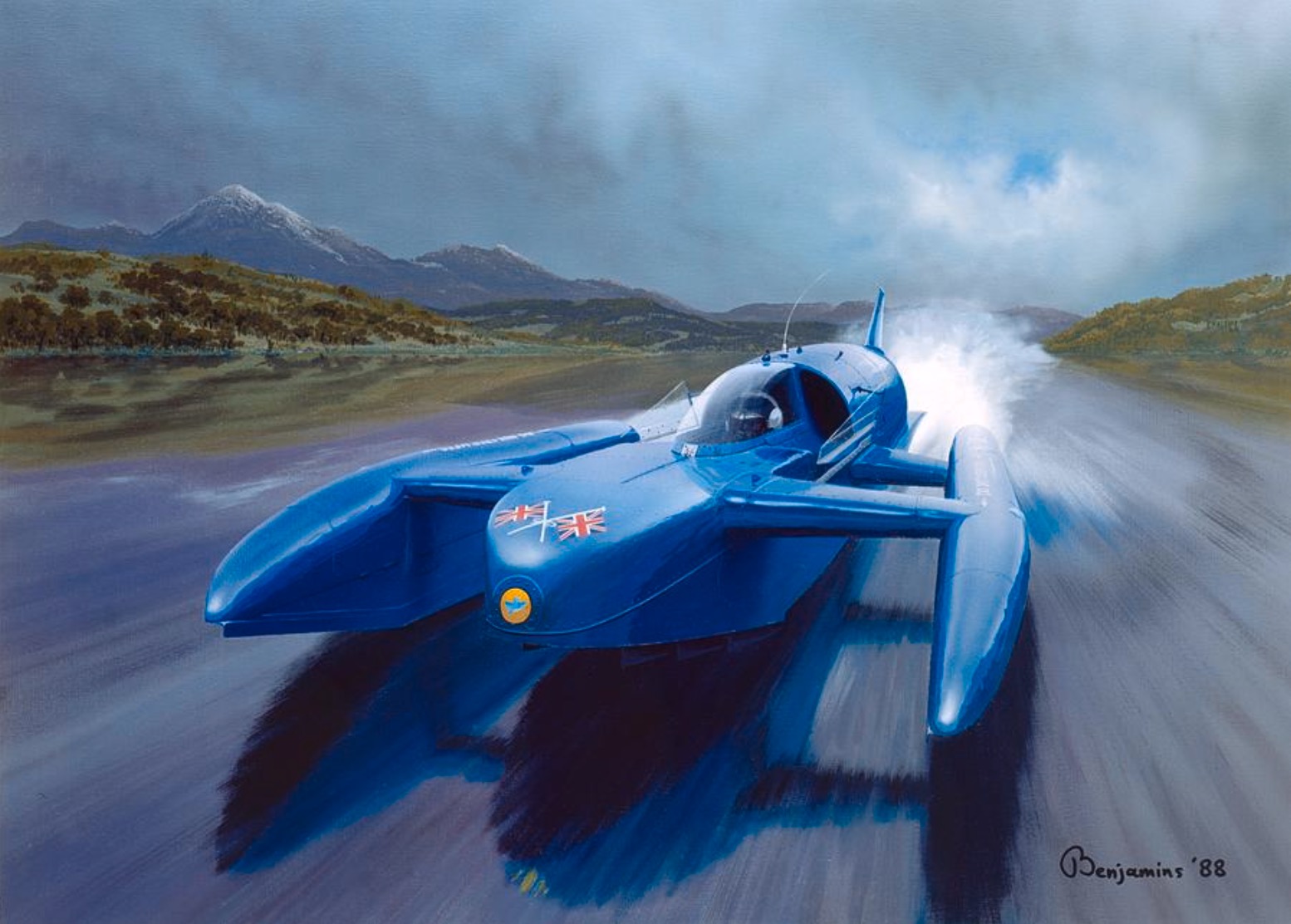 Designed by Ken and Lew Norris, the K7 was a steel-construction, three-point hydroplane with a Metropolitan-Vickers Beryl axial-flow turbojet engine, producing 3500 pound-force (16 kN) of thrust. Like Slo-Mo-Shun, but unlike Cobb's tricycle Crusader, the three points were arranged in "pickle-fork" layout, prompting Bluebird's early comparison to a blue lobster.
Highly complex in design, it remained the only successful jet-boat until well into the 1960s. Bluebird K7 top speed was officially 276.33 mph.
Donald Campbell set seven world water speed records in K7 between 1955 and 1964. The first of these occurred at Ullswater on 23 July 1955, where he set a record of 202.15 mph (324 km/h). He achieved further speed-record increases with the boat during the rest of the decade, beginning with a mark of 216 mph (348 km/h) in 1955 on Lake Mead.
Subsequently, four new marks were registered on Coniston Water, where Campbell and Bluebird became an annual fixture in the later half of the fifties, attracting sponsorship from the Mobil oil company and then from BP. There was also an unsuccessful attempt in 1957 at Canandaigua in New York state in the summer of 1957, which failed due to lack of suitable water conditions.
Bluebird K7 was much photographed; as well as her annual Coniston appearances, she was displayed extensively in the UK, USA, Canada and Europe, and then subsequently in Australia during Campbell's prolonged attempt on the land speed record (LSR) in 1963 – 64.
In order to extract more speed, and endow the boat with greater stability, in both pitch and yaw, K7 was modified in the second half of the 1950s with the installation of smoother streamlining, a blown cockpit canopy and, from 1958 onwards, a small wedge shaped tail fin, modified sponson fairings, that reduced aerodynamic lift, and a fixed hydrodynamic fin to exert a marginal downforce on the nose.
Thus she reached 225 mph (362 km/h) in 1956, where an unprecedented peak speed of 286.78 mph (461.53 km/h) was achieved on one run, 239 mph (385 km/h) in 1957, 248 mph (399 km/h) in 1958 and 260 mph (420 km/h) in 1959.
Donald Campbell then turned to the LSR, and after surviving a high speed crash in his Bluebird CN7 turbine powered car, he spent a frustrating two years in the Australian desert, battling adverse conditions.
Finally, after he exceeded the LSR on Lake Eyre in 1964, at 403.10 mph (648.73 km/h) in Bluebird CN7, Donald snared his seventh water speed record on 31 December 1964 at Dumbleyung Lake, Western Australia, when he reached 276.33 mph (444.71 km/h), with two runs at 283.3 mph (455.9 km/h) and 269.3 mph (433.4 km/h) completed with only hours to spare on New Years Eve 1964.
This made Donald Campbell and K7 the world's most prolific breakers of the Water Speed Record.
It was his finest achievement and Donald became the only person to break both the Land Speed Record and the Water Speed Record in the same year, a feat that is unlikely to be ever equalled.
Fatal Record Attempt
Donald Campbell decided to push for the ultimate water speed record: his target, 300 mph
Donald Campbell
1921 ~ 1967
On 4 January 1967, Donald Campbell mounted his most daring record attempt, but was tragically killed when K7 flipped over and broke up at a speed.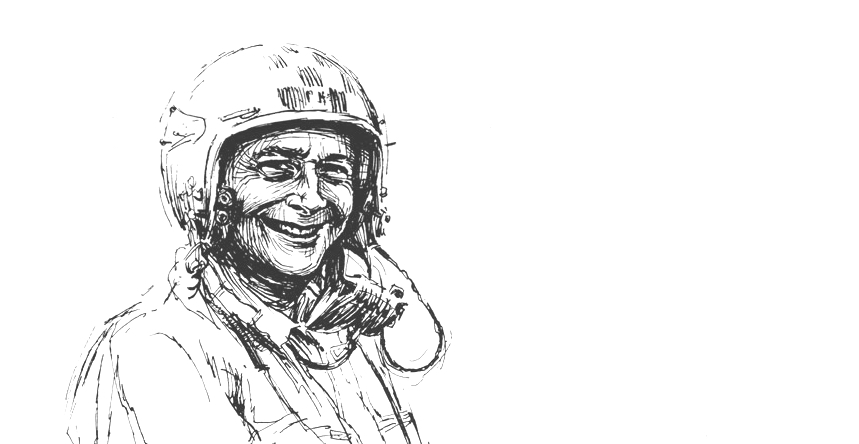 Engine Problems
K7 was fitted with a lighter and more powerful Bristol Siddeley Orpheus engine, taken from a Folland Gnat jet aircraft, and lent to the project by the MOD, which developed 4,500 pound-force (20 kN) of thrust.
The new K7 had a vertical stabiliser (also from a Gnat which Donald had purchased) and a new hydraulic water brake designed to slow the boat down on the five-mile Coniston course. The boat returned to Coniston for trials in November 1966.
These did not go well; the weather was appalling and K7 destroyed her engine when the air intakes collapsed under the demands of the more powerful engine, and debris was drawn into the compressor blades.
The engine was replaced, Campbell using the unit from the scrapped, crash-damaged Gnat aircraft that he had purchased at the project's start.The original engine remained outside the team's lakeside workshop for the rest of the project, shrouded in a tarpaulin.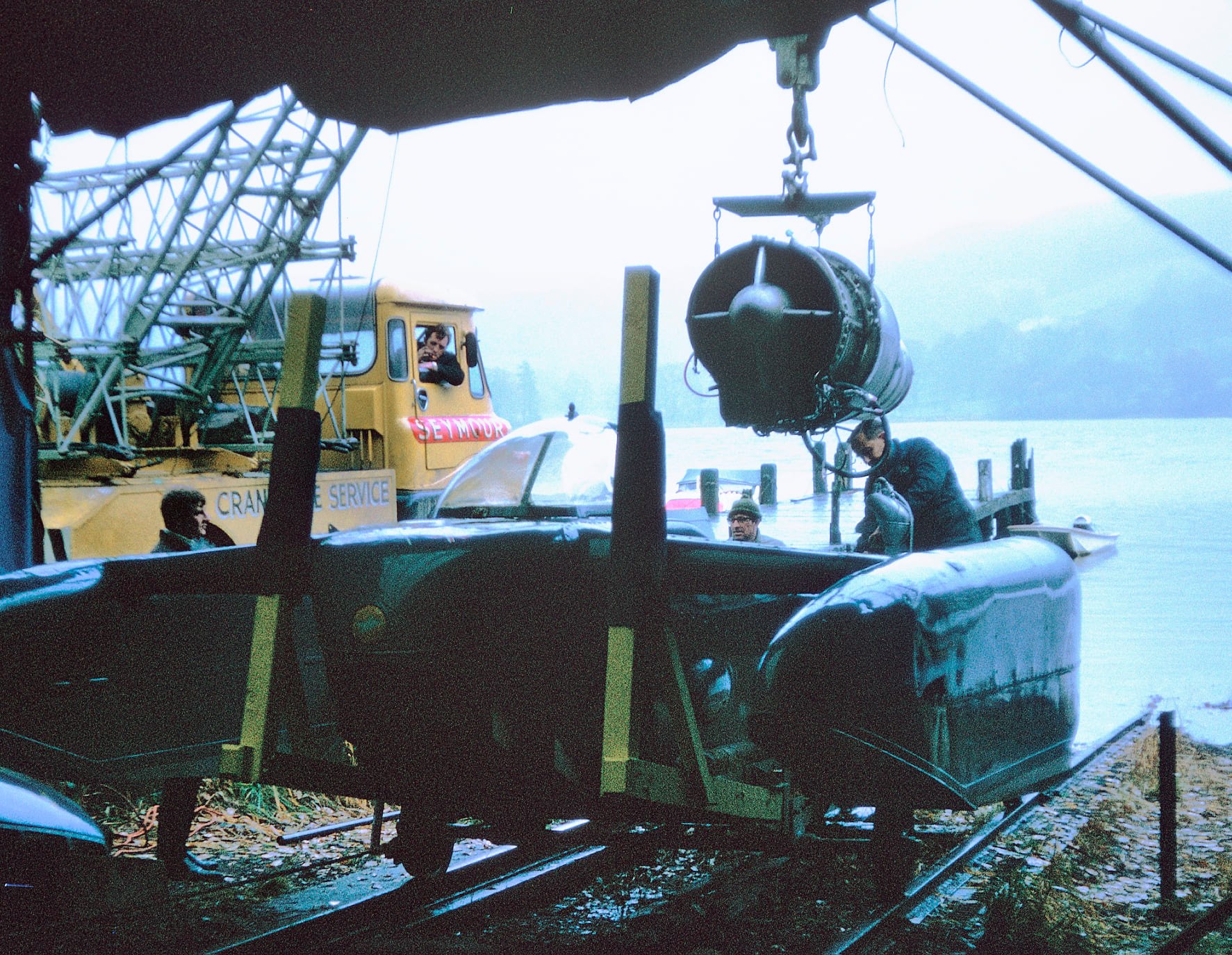 By the end of November, after further modifications to alter K7's weight distribution, some high-speed runs were made, but these were timed at well below the existing record. Problems with the fuel system meant that the engine could not develop maximum power. By the middle of December, Campbell had made a number of timed attempts, but the highest speed achieved was 264 mph, and therefore still shy of the existing record.
Eventually, further modifications to K7's fuel system (involving the fitting of a booster pump) fixed the fuel-starvation problem. It was now the end of December and Campbell was all set to proceed, pending only the arrival of suitable weather conditions...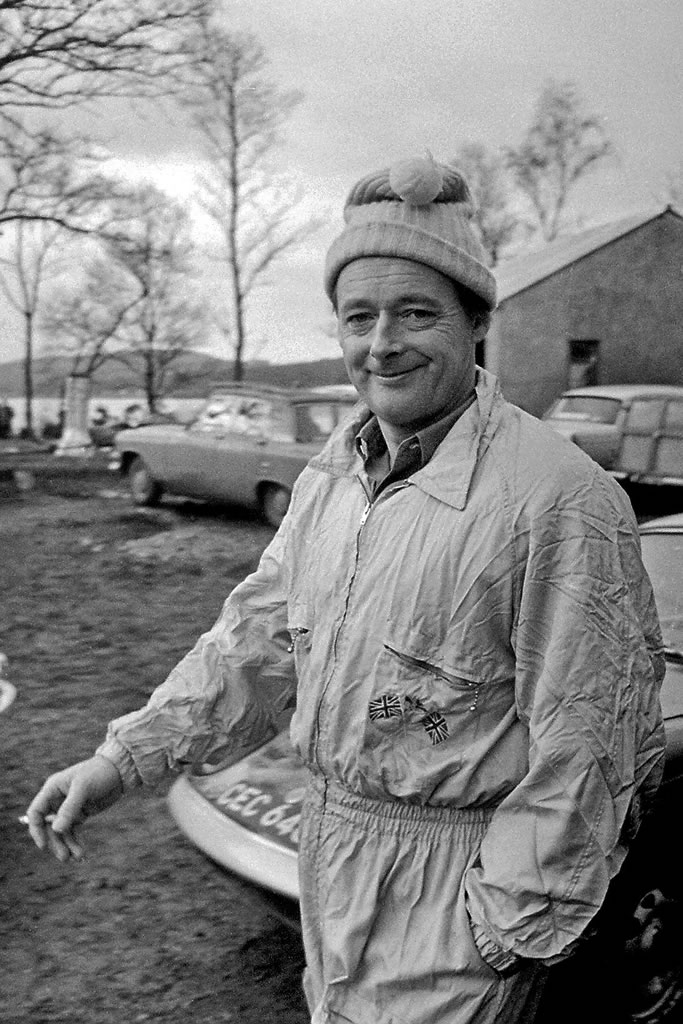 On 4th January 1967 Donald Campbell mounted his most ambitious, but sadly his last record challenge
Bluebird had completed a perfect north-south run at an average of 297.6 mph (478.9 km/h) and Campbell used a new water brake to slow K7 from her peak speed of 315 mph (507 km/h).
As K7 passed the start of the measured kilometre, she was travelling at over 320 mph (510 km/h). However her stability had begun to break down and the front of the boat bounced out of the water on the starboard side. K7 lifted from the surface and, after about 1.5 seconds she took off at a 90-degrees to the surface.
K7 somersaulted and plunged back into the lake, nose first. TV cameras on the banks captured the boat cartwheeling across the water before coming to rest. The impact rent K7 beyond the air intakes (where Donald was sitting) and the main hull sank. Donald Campbell was killed instantly. Mr Whoppit, his teddy mascot, floated to the surface amongst the debris, as did his pilot's helmet.
Royal Navy divers quickly made every effort to find and recover his body but, although the wreck of K7 was found, they called off the search after two weeks. It would be many years before Donald's body was finally found.